PYC bearing is a specialized manufacturer of full ceramic bearing roller,bearing ball ceramic,15x32x9 ceramic bearing
We have 2 types of ceramic bearing, hybrid ceramic bearing and full ceramic bearing, the hybrid ceramic bearing has steel inner and outer rings with ceramic balls, as for the full ceramic bearing; the inner, outer rings and the balls are made of ceramic. There are many kinds of ceramic materials, the most common ceramic materials are Si3N4 that stands for the silicon nitride ceramic material and is black colored, SiC stands for the silicon carbide material and also is black colored. and the ZrO2 that stands for the zirconium dioxide, also known as zirconia or zirconium oxide, they are white colored, a ZrO2 ball looks exactly like a pearl. the ceramic material is not stronger than steel, but ceramic bearing are lighter and have lower friction than steel, that makes ceramic bearing go faster with lower heat generated.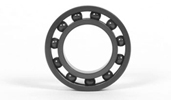 hybrid bearings full ceramic ceramic balls
Hybrid Ceramic Bearings
Conventional all steel bearings limit design potential as technology requirements roll forward at a fantastic rate. Ceramic Hybrid bearings using Silicon Nitride balls (Si3N4) meet and exceed today's high tech requirements, offering a long list of characteristics far superior to that of conventional all-steel bearings.
Full Ceramic Bearings
Its lighter, smoother, stiffer, harder, corrosion resistant, and electrically resistant. These fundamental characteristics allow for a wide range of performance enhancements in bearings. Ceramic Balls are particularly well suited for use in extremely harsh environments where high temperatures or corrosive and erosive substances are present.
* Silicon Nitride (Si3N4) Series: A new material suitable for applications where high loads, high speeds and extreme temperatures are factors. Long life and the need for minimum lubrication makes this material perfect for harsh conditions. Si3N4 is anti-magnetic. Maximum useful temperature is 2552F.
* Zirconia (Zr02) Series: Inert to corrosive materials, with the exception of hydrofloric acid and hot concentrated sulfuric acid. Maximum useful temperature 1800F.
You can see the complete Bearings Tables of our products here.
. large ceramic self aligning ball bearings. bal bearing ceramic. shanghai ceramic bearing. 4x10x3 ceramic bearing. ceramic bearing abec 5. full ceramic roller bearing. ceramic bearing for skates. ceramic bearing 6900. ceramic bearing 8x10x10. high speed ceramic bearing. full ceramic bearing roller. ceramic bearing 6802 6902. bearing ceramic. ceramic bearing supplier. ceramic roller bearing. 15x21 bearing ceramic. bearings ceramic abec 5. ceramic motorcyle bearings. small ceramic bearings. ceramic nitride bearings. custom ceramic bearings. ceramic bearings for shimano. abec 5 4x10x4 ceramic bearings. ceramic bmx bearings. high performace precision ceramic engine bearings. ceramic grade 5 bearings. 6203 2rs ceramic bearings. ceramic race car bearings. ceramic bearings 6004. bearings ceramic. motorcycle ceramic bearings. tamiya ceramic bearings. 40mm ceramic bearings. ceramic miniature bearings. hybrid bearings abec 9. ceramic hybrid 6203 bearing. ceramic hybrid 6203 bearings. 50,000 rpm hybrid ceramic bearings. hybrid ceramic bearings turbine. hybrid ceramic bearings. ceramic hybrid ball bearing . ceramic bicycle bearing , ceramic wheel bearings , ceramic balls , ceramic thrust bearings , hybrid bearings , ceramic speed bearings , zirconia bearings , silicon nitride bearings , full ceramic bearings . ceramic spindle bearings