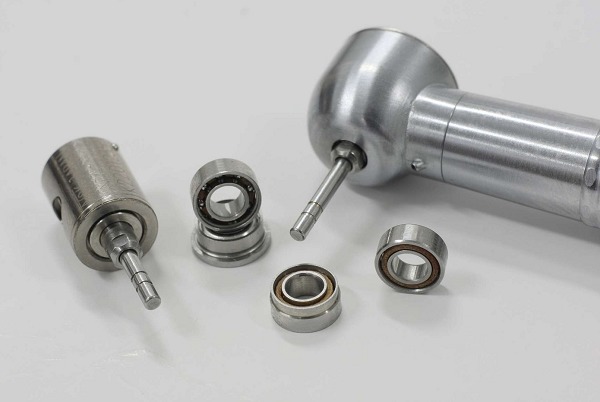 PYC bearing is a specialized manufacturer of ceramic dental bearings,dental ceramic bearings,dentis bearings.
PYC bearing can provide a range of dental hand piece bearings from a broad range of authentic original equipment bearing manufacturers. If you have requirements then ideally we would like the bearing part number as this will ensure that you receive exactly the part you require. Alternatively you can use our visual selection guide as an aid to choosing the bearings you need replacing.You can also see the photoes of the high speed and slow speedsamples.
We have super precision miniature bearings for most dental/medical applications. These dental bearings are of the highest quality and precision with operational tolerances exceeding ABEC 9 (High speed instrument bearings). In addition to the standard lubricants we offer the Lube-No-More* grease pack to help minimize maintenance while ensuring long life.
With advances in bearing design, dental hand piece bearings have evolved to give extended life and performance possibilities. With the increasingly economic options for ceramic components, many dental designs have ceramic elements although this is by no means the ultimate answer to all dental requirements.
Typical handpiece and accessory brand names we can help you with include: (click on the name to see a summary of the models we can provide bearings for:
Alternatively click here to choose your bearing using our visual dental bearing selection guide.
Meantime, we also supply the Slow Speed Dental Bearing to meet different customer's requirements.
Choose from the following information of engineering data below:
---
rotex 780 handpiece bearings. dental tool bearings. ceramic dental bearings. dental high speed bearings. smooth dental bearings. miniature dental bearings. dental drill bearing. bearing dental. bearing dental tools manufacturer. 7x4x2 dental bearings. dental bearing suppliers