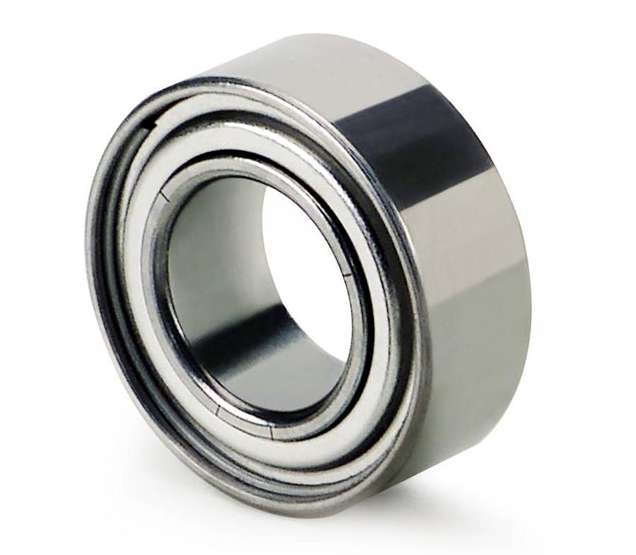 PYC bearing is a specialized manufacturer of minature bearings food grade,low friction miniature bearings.
Miniature bearings food grade are available open, shielded or sealed.and, in addition to most miniature and thin section bearings being available in stainless steel, these popular metric types come with bore sizes from 10mm upwards. These corrosion resistant bearings are also available shielded or sealed (ZZ or 2RS) with food grade lubricants or shielded (ZZ) with very high temperature grease (up to 270C). Most of the rubber sealed stainless steel bearings also have the TW high speed synthetic retainer. We can supply most of these sizes passivated for increased corrosion resistance in, for example, marine environments. Corrosion resistant bearings can also be supplied in plastic or 316 grade stainless steel for very corrosive environments but may be subject to minimum order quantities.
Product Tables
Metric Series
Shielded:Bore sizes 1mm to 10mm
Flanged:Bore sizes 2mm to 12mm
Inch Series
Open:Bore sizes 0.0781 to 0.375 inches
Shielded:Bore sizes 0.0781 to 0.375 inches
Flanged:Bore sizes 0.0781 to 0.375 inches
Unflanged Extended Inner 0.0469 to 0.3125 inches
Flanged Extended Inner 0.0469 to 0.3125 inches
You might want to see other Deep groove ball bearing (Bore sizes over 10mm)
Our entire series of bearings can be supplied in SAE52100 chrome steel and Aisi440c or 316L stainless steel and, like most deep groove radial ball bearings, can withstand heavy radial loads and moderate thrust loads in both directions. Certain sizes can be supplied with the TW high-speed synthetic cage and most metric miniature bearings and Miniature bearings can be supplied flanged, full ball complement, extended inner ring, modified dimension ...
PYC bearings manufactures more than 8,500 different types of miniature and small-sized ball bearings, most of which have external diameters of 22mm or less.
In addition, you can see the Bearings Tables of our other products here.