Bearing Products >
Insert Ball Bearing Unit
---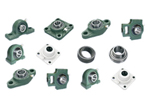 Insert Ball Bearing Units consist of a double-sealed single-row deep groove bearing, and castiron (or other material) housing in various configurations.
Features :
1) Radial insert ball bearings are particularly easy to fit. They are located on the shaft by means of an eccentric locking collar, grub screws in the inner ring, an adapter sleeve, drive slot or fit.
2) The radial insert ball bearings are integrated in the housing units. In order to ensure correct function and operational reliability in all operating conditions, the bearing and housing are matched to each other.4) Housing materials: cast iron pillow blocks / cast iron plummer blocks / sheet steel housings / plastic housings / stainless steel housings.
Applications :
used in motors, chain belts, chain wheels, and automobiles
Catalog :


UCP200

UCPH200

SBFD200

UCP300

UCPA200

PP200

UCF200

UCPW200

PF200

UCF300

UCPG200

PFT200

UCFL200

UCHA200

PFL200

UCFL300

UCHE200

UCPX00

UCT200

UCFB200

UCFX00

UCT300

UCFA200

UCFCX00

UCFC200

SBLF200

UCFLX00

UCTX00

SALF200

UCC200

SBFW200
related navigation: