Bearing Products >
Dental ball bearings,dental handpiece bearing
---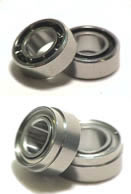 PYC dental bearing company are dedicated to providing high quality dental bearings, dental ball bearings, dental handpiece bearings for handpiece repair shops and manufacturers with very competitive price.

Dental ball bearings for dental handpieces come in many shapes and sizes. Many low-speed Dental Handpiece bearings only require standard type cages. We recommend Stainless Steel and at least P6 precision for these applications.

High Precision ceramic dental handpiece bearing usually have a synthetic cage. High-speed handpiece bearings are generally at least Abec 7 precision, and often have modified internal design.
Material:
Rings: AISI440C
Balls:Si3N4 Ceramic balls or stainless steel balls
Ceramic balls: (20% harder than conventional bearings with steel balls, 50% the weight of the steel equivalent,
frictional wear between the bearings and bearing retainers is significantly reduced, Noise is very low.)
Retainers:
| | | |
| --- | --- | --- |
| | | |
| Torlon | Phenolic | Polyimide |
Our dental bearings can be used at the following brands handpieces:

Abu-Handpieces
Adec
Alpha Air
Banner
Beaver
Bien Air
Bordon
Bravo Bedetrice
Buffalo
DME
Dabi-Atlante
Dynadent
Elco - Austria
Falcon

Faro
Futura
Gamborini
Impact-Air
KMD
Kavo
Kool Torque
Lares
MTC
MTI
Micro Mega
Midwest
Morita
Muss

NSK
Royal - Handpieces
SS White
Shofu
Siemens
Star
Starflite
TKD
Torx
W and H
Yoshida
All the dental bearings could be chosen to use ceramic balls or stainless steel balls,Radial,Angular contact bearings also available
Download in dental bearings catalog in PDF document



Technology
1¡¢It is best that the interference between bearing bore and turbine shaft is under 0.5um¡«1.5um.
When put burbine shaft into bearing bore,the pressure should be force on inner ring
to avoide damage rollway nest and balls.
2¡¢After interference tubine shaft into bearing,they should be clear and instil professional lubricant.(must not use ethanol
or acetone to clear.
3¡¢High Speed Air Turbine H.P.should be sprayed some lubricant into air inlet before used,
especially, after high steam disinfected, so that bearing could be used longer time.
4¡¢To keep operating stability£¬prestretching stress of spring should be under1.5-0.5N.
related navigation: