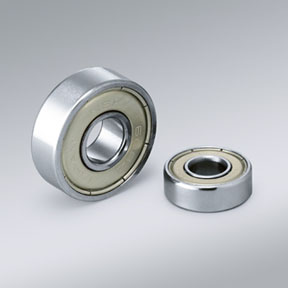 PYC bearing is a specialized manufacturer of steel bearings,steel ball bearing,steel ball bearings,steel bearing,steel balls bearings.
Common steel ball bearing are constructed of SAE 52100 chromium-alloy, high-carbon ball bearing steel, which is suitable for most applications. It offers satisfactory operation at temperatures approaching, with no adverse effect on load capacity. Heat stabilized SAE 52100 steel operates in the 350 range. Contamination causes more ball bearing failures than fatigue. Specific seals protect against specific types of contamination. Select a seal that provides protection and lubricant retention for your specific application.
Steel ball and bearing were highly critcial in spurring on the Industrial Revolution, just as they are equally essential in today's endless variety of manufacturing, recreational and high-tech equipment.
In addition to chrome steel bearings, we offer bearings manufactured from all of today's most versatile and durable materials, including:

. Stainless Steel Bearings
. Chrome Steel Bearings
. Carbon Steel Bearings
. Ceramic Bearings
You can see the complete Bearings Tables of our products here.
. steel balls bearing. buy steel bearing. steel wheel bearings. 6mm steel chrome bearings. mm steel bearings. steel loose ball bearings