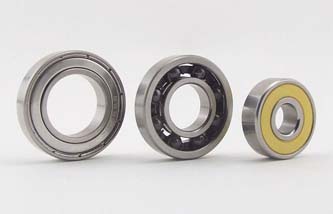 PYC bearing is a specialized manufacturer of high speed bearing,high speed bearings,high speed ball bearings,high speed ball bearing,high speed ceramic bearings,high speed miniature bearings,stainless steel high speed bearings.
high speed bearings are designed to deliver the high accuracy, high rotational speed, and high rigidity needed for demanding applications. PYC super precision ball bearings deliver the highest level of accuracy, supported by our production capability, state-of-the-art equipment and extensive manufacturing expertise, as well as our commitment to applying the same rigorous quality control procedures at each stage of our production process. With optimal materials and internal design, PYC offers several types of super precision bearing, including the ROBUST series.
PYC's super high speed ball bearings are designed to meet the following requirements:
• Extreme accuracy
• High rotational speed
• Quiet and smooth running
• Minimum friction and heat generation
• Controlled rigidity
Our high-speed Angular Contact Bearings offer rotation speeds to 500,000 rpm for high-performance applications that include:
* Dental and medical equipment
* Aerospace equipment
* Machine tools
Our high-speed bearings provide exceptional performance, enhanced by:
* Precision tolerancing
* Balanced design
* Raceway super finishing
* Variety of retainer options, including phenolic retainers
* Torlon® cages
* Ceramic balls
Sealed options offer time saving to the end user, pre greased with long life grease, improved grease life and reduced contamination.
You can see the complete Bearings Tables of our products here.