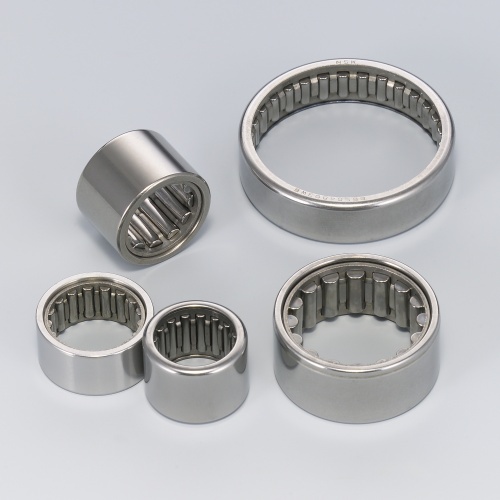 Drawn cup needle roller bearings are complete bearing units consisting of a thin-walled, drawn outer cup and a needle roller, available in full complement or cage assembly. Needle rollers have particularly compact radial dimensions and require a hardened and ground shaft as a raceway. Inner rings can be used for applications where it is impractical to use the shaft as the inner raceway.
Drawn cup needle bearings are ideal for housing bores that are of low rigidity like cast iron, aluminum or plastic. Mechanical efficiency is improved with needle roller bearings because the rotating radius and torque is small. Due to the small bearing volume and weight, the moment of inertia of the bearing is minimized when put in motion, therefore requiring lower torque.
Choosing a bearing with a closed end will protect against moisture and contaminants and also help prevent injury from exposed rotating shafts. A sealed bearing is intended for retaining grease and for keeping out contaminants and spray. Drawn cup needle rollers are offered in two types; caged or full complement.

Caged bearings utilize fewer rollers which reduces friction, and can therefore handle higher speeds. Specially designed cages guide the rollers at their ends, which decreases friction. Guiding at the end of the rollers also prevents skewing and maximizes roller stability. Caged needle bearings are offered with either a plastic or metal cage. Metal cages are ideal for maximum strength and life requirements. Reinforced plastic is an option when operating conditions permit.
Full Complement needle rollers are ideal for lower speeds and higher loads. Because these bearings utilize more rollers, higher loads are attainable. The lip of the drawn cup outer ring is turned in which mechanically retains the rollers while in motion. These outer rings are then filled with as many rollers as possible. Roller alignment is maintained even with repeated removal of the shaft.
Product Tables
HK...RS,HR...2RS,BK...RS series
The bearing with a closed end can keep the contaminations away and avoid the leakage of the grease. Due the massive grease storage in the bearing, the bearing can have a long period of life. The bearing can also be run under the temperature from -30C to +100C
HK BK series
This kind of bearing is composed by drawn cup thin-walled outer ring, cage and needle rollers. This bearing can afford maximum with a minimum space required. This bearing is ideal to install where there are little space and the housing is not suitable for roller. The bearings are easily installed with a press fit in the housing and normally require no further axial fixing.
Comparing with end open type bearings, the end closed type bearings have lip seals which, under normal operating conditions, protect the bearing from contamination and prevent grease leakage.
HF,HFL series
Drawn cup needle roller clutches have a smallest radial section height among all clutches. This makes optimum use of the available space and allows compact designs. These clutches are suitable for transmitting high torque. They are normally used for converters, non-return devices and transcendental clutches. HF series is composed of thin-walled drawn outer ring and plastic cage. There are a series of ramps on its inside diameter and steel springs in the plastic cage. Needle rollers, which are retained and guided by a plastic cage, form the clamping elements. HFL series has two integral radial bearings arranged on both sides of needle roller clutch. They can therefore support radial forces in particularly space-saving bearing arrangements.